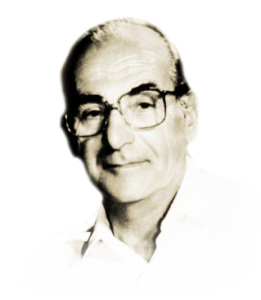 Paul Lauzier was born in 1919. His parents were French immigrants who operated a sheep business in the lower Yakima Valley. His family came to Grant County when they moved their lambing camp to a site near Ephrata.
He was involved in the family sheep business at an early age. As a boy, he spent many summers trailing sheep from lambing camps in Grant County, across the Columbia River, and into high country pastures in the Glacier Peak and Pasayten wilderness areas. He often recalled how he disliked being in the mountains all summer while his friends were back home enjoying the company of the young ladies. However, as years passed he developed an incredible work ethic and a love for the mountains.
Mr. Lauzier served as a member of the United States Army Medical Corps during World War II. He sent most of his military pay to his parents who used the money to continue acquiring land in Grant County, often times at tax foreclosure sales.
Mr. Lauzier assumed responsibility for the family sheep business in the late 1940's. He gradually shifted from sheep to a cattle operation.
In the late 1960's and early 1970's, Mr. Lauzier developed some of the Grant County land he had acquired. He cleared brush, leveled ground, and installed center pivot irrigation systems so his land could be used for irrigated farming.
He was well known for his industry as well as his frugal lifestyle. Although he lived modestly, Mr. Lauzier regularly traveled abroad including many trips to France to visit friends and family.
Mr. Lauzier hosted an early morning coffee group at his home on Dodson Road. His friends and neighbors often joked about the accuracy of his daily weather forecasts as well as his frugal lifestyle.
He supported a number of religious, educational and charitable causes during his life. He funded the construction of a school in Bangladesh. He was a devout catholic and gave many generous donations to churches and catholic schools.
Although he loved to visit, Mr. Lauzier was a private person. He lived alone and never married, but he loved to dance with the ladies. He acquired great wealth but lived a simple lifestyle. He never went beyond high school, but he was dedicated to higher education.
Mr. Lauzier lost his battle with prostate cancer in October 1995. He created an estate plan designed to continue his legacy of charitable giving. Half of the net income from the assets of his estate are distributed through the Paul Lauzier Scholarship Foundation for college scholarships to Grant County students. The other half of the net income is distributed through the Paul Lauzier Charitable Foundation in the form of grants for community development, youth programs, public health and safety, education and agriculture.
We welcome individuals who wish to donate to the Paul Lauzier Foundation's charitable giving programs. Contact us for more information.